The magazine blogs with the "Top Ten Bucket List Hikes" usually mention the John Muir Trail like it's something you decide to do tomorrow.  I'm spoiled here in Tennessee because we can actually decide to take a hike the next day in the Smokies and just go… most of the time.  But our national parks are being loved to the point of overuse and high impact. Crowd control, even in the back country, becomes a necessary evil.  Such is the case with the John Muir Trail in Yosemite.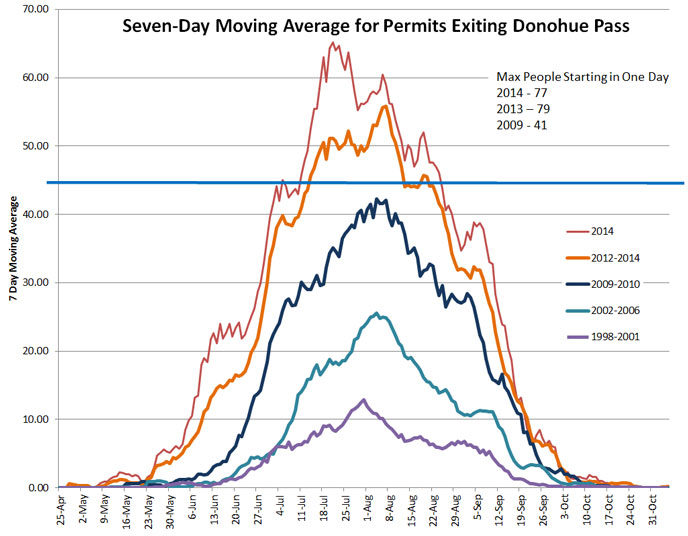 The Park Service and the US Forest Service have an impossible task.  With serious under-funding, they have to find a way to manage millions of visitors while trying to maintain the integrity of the wilderness experience, not to mention the wilderness herself.  And so they implement controls and bureaucracy.  Perhaps the most difficult part of hiking the JMT is actually the permitting process and the blogs fail to point that out beyond a brief mention that you can apply for your permits six-months in advance.  The National Park Service issues 45 permits a day to exit Donahue Pass.  During my efforts I was told by the Park Service that the chances of getting a permit in advance for July are about 5%.  I have an email folder with no less than 32 denied permit requests.  The other option for Yosemite is to show up the day before you want to start your hike, hoping to get one of 10 walk up permits issued each day.  That guy five people in front of you getting permits for a group of 6 means you're done.  A JMT hiker named Sprout shared her experience with the walk up permit process. on The Trek.
The Park Service made it more convenient when they let you put in a range of dates over a over 21 days whereby you can automatically be re-entered for the next day's lottery.  It was halfway through this process that I decided that "getting a JMT Permit for Yosemite needs to be plan B"
"Getting a JMT Permit for Yosemite needs to be Plan B"
Other options include hiking north from Mt. Whitney, getting a 500 miler PCT Permit, and the option I chose, starting the JMT about 3 miles south of Donahue Pass in the Ansel Adams Wilderness.  The permitting process is perhaps no less onerous but at least your odds of securing a permit are much greater.
Permits outside Yosemite are managed by the Inyo National Forest  The trick here is you have to apply for an entrance permit AND and exit permit if you are going to exit at Whitney Portal.  Just like Yosemite, you can apply up to six months in advance.  Permits are limited, especially for Whitney Portal, but their availability is much greater than the Yosemite permits.  The Rush Creek trail joins the John Muir Trail just 3 miles south of Donahue Pass and as of early-February, there were plenty.  The exit permits for Whitney Portal were more of a challenge and I should have applied a couple weeks earlier, but luck was with me and I secured an exit date.  If Whitney Portal permits are not available, one option is to hike past Whitney Portal to the next trailhead 35 miles south.  The Yosemite permits do not require an exit permit for Whitney Portal.
IMPORTANT TIP:  The Recreation.gov website that manages the permits for the USFS gives you a limited amount of time (5 minutes or so) to complete your permit request.  The JMT Trail requires 15 – 20 days to complete and the website requires a specific location for every camp.  So you get your start and end date and then you begin inputting your camping nights when the website times out.  After three attempts and pulling part of my beard out in frustration, I called the Inyo Forest Service Permit Office.  They were sympathetic and gave me a clue.  The website does not have any logic about your camping schedule between start and exit.  All you have to do is put anything in those fields, pay for and submit your permit request, and then fix the schedule later.
So now the plan is to day hike sections of the JMT in Yosemite.  But even if you simply must start your hike in Yosemite, I would still have the Forest Service Permit ready so if the walk-up strategy fails, you have a backup.  Just make sure to cancel your Forest Service permit if you happen to get one of those rare 10 passes.  I think I'll sleep in that day and just go with my Inyo permit.
Strider out!